As the largest city-funded completed construction project in Fremont's history, the new Leon J. Mezzetti Maintenance Center covers 14 acres. This state-of-the-art government facility cost $32.3 million to complete. It centralizes maintenance and operations services once spread citywide. U&R is proud to have served as the primary civil engineering and surveying firm on the project.
Specifically, the maintenance center includes a 17,000-square-foot administrative building, metal shop, woodshop and site for addressing hazardous materials. For city vehicles, it offers a fueling station, a car wash and a 150-car parking lot. A garden supply center provides plants and rocks for the city's parks.
U&R also addressed environmental issues. To minimize pollution, stormwater is diverted through grassy swales (ditches) before it enters a centrifugal grease and trash separator. A unique traffic circle saves the lone pepper tree on the property. At one point an official expressed concerns about visitors who might accidentally drive around the circle in the wrong direction. During football season, U&R's President Frank Rosenblum creatively solved the problem by redesigning the circle in the shape of a regulation NFL football.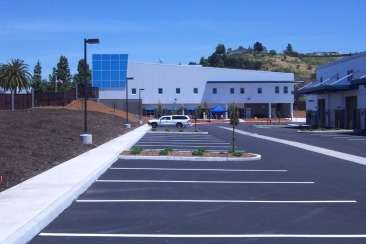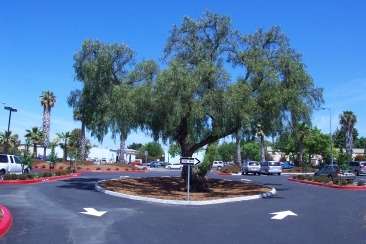 To celebrate the facility's grand opening, large crowds attended a ribbon-cutting ceremony. The local paper covered the story.