Historic maps of the Bay Area and California line the hallways of U&R's office. Dating from the 1860s to 1960s, these maps commemorate a time when every distance and angle shown was measured by hand. Dedicated rugged individuals mapped out the land using optical measurement instruments of the day. Their maps were often hand drafted to a high standard of accuracy and detail. These maps show us how the State of California developed around wonderful natural geographic features into the special place it is today.
Expressing what's on the land in drawing form is the backbone of what U&R does. Today we benefit from new technologies: satellite imagery, aerial photography, global positioning systems, robotic total stations, computer-aided drafting and digital 3D modeling. Historic maps in U&R's office serve as a model of how to visually express and present the land on paper.
Our historic maps also help give us perspective on where we are in the human development of the State of California. These maps give clues to why roads and cities were placed in their current locations. Treasured through the years, natural and historic features have been preserved.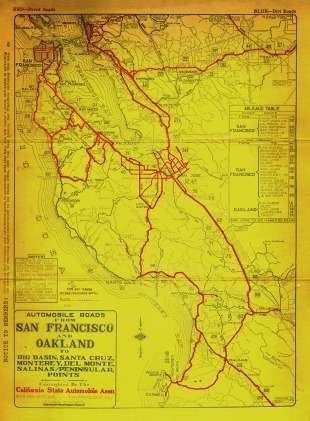 Pictured above is a map from the year 1910. It shows paved roads from San Francisco to Salinas.