Fremont Unified School District is a long-term, valued client of U&R and we are proud to be on the school district's list of preferred surveyors. When the school district issued an RFP last year for surveys related to ADA path-of-travel upgrades, we quickly got to work in preparing to bid for the job. But a closer look at the project scope uncovered a significant list of questions. By taking the time to ask those questions, U&R initiated a process that saved the district roughly 40 to 80 percent on project costs.
How did we do it?
Experience and Honesty: Fremont USD's RFP requested in-depth boundary and topographic surveys across five school sites. These would document every square inch of each site, including easements and underground utilities. While this type of survey is necessary and useful in many contexts, we knew the district was asking for more work than they needed to achieve their objectives in this case.
Leveraging decades of experience with school districts and our own thorough knowledge of current ADA requirements, we developed a detailed list of scope questions for Fremont USD. These sparked an extended phone conversation with the district in which we gave our honest take on how they could drastically reduce work at the sites and ultimately save time and money.
Delivering Efficiency and Value: Instead of performing a comprehensive site survey, U&R persuaded the district to let our principal engineer walk the site, identify all paths of travel, and take preliminary measurements to assess where paths were not ADA accessible. By doing this, we could pinpoint non-compliant paths and focus more detailed surveys on those areas only, rather than the entire site.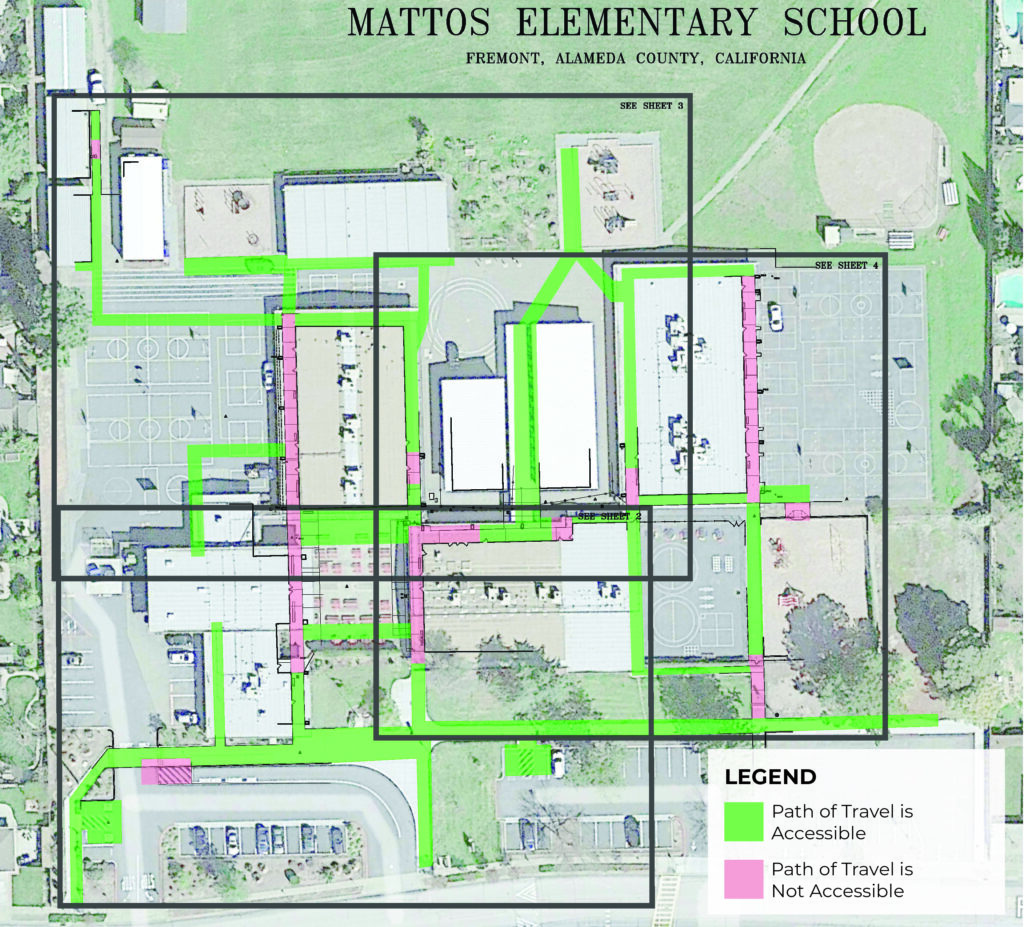 This image illustrates our assessment of one of the five school sites. Green lines indicate where paths were already ADA compliant, and red lines are non-compliant paths. Looking at the bigger picture, only a fraction of the paths are not accessible. The unnecessary work the district could have invested in across the entire site is clear from this survey.
Saving Time and Money: U&R reduced a potential three-month project to one month and delivered each assessment and survey for less than $20,000 at each site, where comprehensive surveys could have easily cost $50,000 to $100,000 per site. Where many firms would have proceeded in performing superfluous work, we delivered only the necessary work and saved the district considerable time and funds they can now divert into other essential projects for their students. Furthermore, we delivered an ADA accessibility report the district would not have gotten with other firms.
This case study is just one example of how U&R engages with our clients. We put our expertise to work not just in delivering services, but in giving honest, knowledgeable advice that delivers tangible value.
For more information on U&R's civil engineering and surveying services, visit https://www.uandr.com/services/